It was seventeen years ago when Hugh Jackman played the breakout role of Wolverine in the X Men movie. Since then, whenever one thinks of Wolverine, it's Hugh Jackman.
Logan is set in 2029, where Wolverine/ Logan is now known as James Howlett and drives around a limousine. He's grown old, drunk and full of rage. With the money he makes, he buys medicines for a secret he's hiding at the US-Mexico border: Professor Charles Xavier (Patrick Stewart) who's way into his 90s.
Things kick off when a chance meeting with a Mexican women causes her daughter to land up Logan's property, leading Professor Xavier to believe that she's the girl he's been waiting for. Logan up to this point has no interest in 'saving humanity' and opts out of anything to do wit the girl. A band of mercenaries are after the girl, for they believe she possess special powers, and when they land up at Logan's property, all things are let loose in a fun, powerful and intensely violent fight.
Laura (played powerfully by a Dafna Keefe), the young girl, reveals her powers while fighting, slicing, dicing and impaling the men: she has the same adamantium claws like Wolverine. This brings out the curiosity in Logan, but he still doesn't want to have to do anything with her. In a rather interesting tie-in with the X Men comic books, Laura shows Logan in the comics where she wants to go, something which Logan dismisses as rubbish. I thought this was a clever plot device to push the movie forward. Logan shuts out Laura by telling her that the comics are all made up and fake, while Laura believes them to be the truth.
With all three on board, Logan is pushed by Professor Xavier to help Laura reach her destination: Eden. Logan expresses a complete rejection of any sort of belief in Eden and refuses to do any such thing. It's only when he realises and finds out who Laura is that he starts to warm.
The movie then follows Logan, Professor Xavier and Laura on a road trip to Eden. It becomes a road trip of sorts, with a lot of talking and exploring each other, not to mention several unseen twists.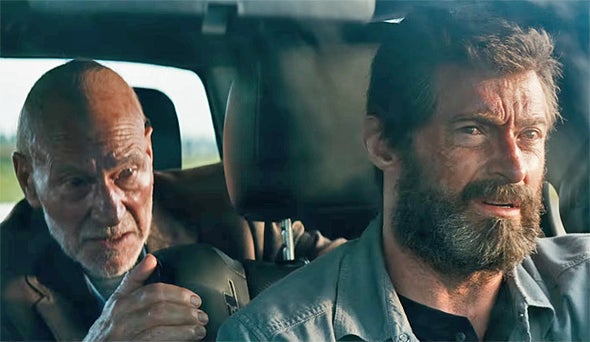 Professor Charles Xavier and Logan
There is a reason why Logan is doing extremely well at the box office and garnered a high approval ratings (94%)!
The movie is billed as a 'super-hero movie for grown-ups.' There's none of the over the top special effects and a band of mutants getting together to save the world for the umpteenth time. Instead, we get a heavy character-driven movie, getting into the mind of Logan. He's growing old and wants to escape to an isolated place with Professor Xavier where they can both die peacefully; they are done with saving the world. With the introduction of Laura, Logan starts to warm up and we get to see a rather interesting relationship develop between the two.
It's just not about the character though, for the director, James Mangold, makes sure to satisfy the die-hard fans in the fight scenes that's ultra-violent, brutal and ever so realistic. People's heads are sliced off, the claws strike through people's various body parts, chests are impaled, everything happens in a rather realistic way. There's enough to gratify to the fanboy sitting in the audience.
The movie is also in 2D, a bold move taken by James Mangold, which works beautifully in my opinion—this was a great old-fashioned way to enjoy an adult superhero movie.
Logan, however, will be most appreciated by those who've been following his journey over a number of movies. They will be the one who will understand why we have Logan who's dissatisfied with life, swearing his way through the day (the movie is rated R).
As a stand-alone movie, and to the uninitiated, it will be a rather long and tiresome movie and you will be checking for your whatsapp messages on your phone.
Clocking in at 137 minutes, it's a tad bit lengthy for an English movie, but if you invest your time in Logan's final adventure, you will be amply rewarded and will feel proud to have taken part in Hugh Jackman's last outing as Wolverine.
To those who absolutely loves these characters, better be prepared for some rather unexpected moments in the finale. Logan has become that perfect movie to send out Hugh Jackman in an extremely befitting manner that he so well deserves for the "One Last Time!"
Genre: Drama, Action, Super-Hero
Cast: Hugh Jackman, Patrick Stewart, Dafne Keen
Synopsis:  Growing old and dying, Logan is pushed through to his final adventure in getting Laura, the girl with special powers, and Professor Charles Xavier to Eden, while fleeing from a group of men who are after the young girl.
Seen at: Cinestar, Xinhua Mall, Lahore
Approval Ratings: 94% Rotten Tomatoes