To appreciate Rangoon, one has to have certain foreknowledge of where the director is coming from. Vishal Bhardwaj is the man who brought us Shakespearean adaptations to Bollywood: Omkara (Othello), Maqbool and Haider (Macbeth), these three being the top most prominent ones. They all were adapted so brilliantly, and the audiences lapped it all up. From intense acting to solid scripts, with Bhardwaj giving his own style of infusing musical numbers, his movies have been made memorable.
With Rangoon, it's obvious that Bhardwaj has taken his ambition to the next level and came out with a movie that's set on a much larger and bolder canvas to recreate an era of struggle, rebellion and love. Does it work? In most parts, yes!
The setting is 1943, against the backdrop of World War 2. In India, there is a nationalistic uprising led by Netaji Subhash Chandra Bose, who is creating Azad Hind Fauj, all the while Gandhi is leading the Quit India movement. The two movements are going up against the British Raj, who would eventually leave India few years later.
Rusi Billimoria (Saif Ali Khan) is film actor turned producer, due to his accident performing a movie stunt (a diability that Khan imbibes in his character so well!). He is fond of the British and seeks to satisfy them a lot, in particular Major General David Harding, a bilingual Englishman who has no love for India.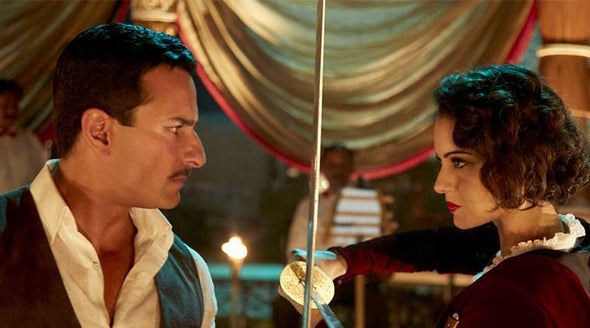 Rusi Billimoria (Saif Ali Khan) and Miss Julia (Kangana Ranaut)
Rusi is fond of Miss Julia (Kangana Ranaut), who is a very popular movie actress and seeks to become Mrs. Billimoria. She's fearless, strong and powerful, but in the hands of her lover, she's treated like a pet poodle, often referred to as 'kiddo.'
Miss Julia and her team are commissioned to be sent to Burma to perform for the army men, when at the last minute Rusi is summoned home in an emergency. Miss Julia leaves on the train without her lover, and is being escorted by Jamadar Nawab Malik (Shahid Kapoor), an army man who's proven adept in his duty and is assigned to escort the team safely.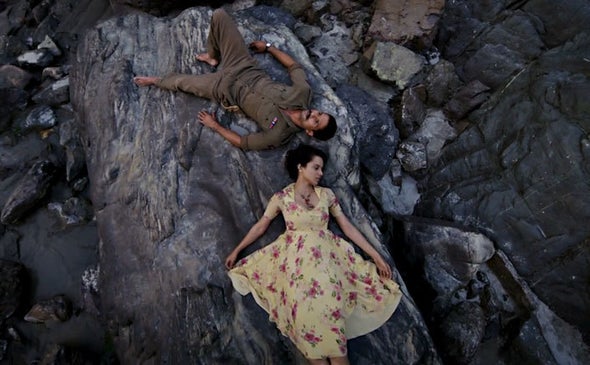 Nawab Malik (Shahid Kapoor) with Miss Julia
A surprise military attack on their convoy forces Miss Julia and Nawab Malik to be separated from the group, leaving the two of them to make their way from Burma to India on foot. They are eventually joined in by Japanese soldier, who knows his way around to the border.
It's no surprise that Miss Julia and Nawab Malik eventually develop some level of affection for each other during their journey- and it's an affection that grows naturally and doesn't seem forced. Having made it to India, both of them know that their love for each has to be kept secret.
The second half of the movie packs in more punches and has more meat. Political tensions rise, secret agents are caught, men and women are killed, all the while Rusi becomes aware of the affair between Miss Julia and Nawab Malik. The second half is something that needs to be watched and cannot be explained. Needless to say, there is a lot of drama and the climax that unfolds out on the bridge between India and Burma is a treat to watch.
The acting from the three main leads is entirely convincing and believable. Kangana Ranaut takes the cakes and certainly proves she has the guts to take on roles that are heavy on character. Her transformation from a childlike woman who's treated poorly by the misogynistic Rusi, to a woman who's blossomed like a flower is a delight to watch. Her ability to use her body language, dialogues delivery, physical prowess is all spot on. At one point, Nawab Malik tells her that she's "buried her own personality in the grave." This serves as an awakening call that she's worthy and valuable.
Complementing her is Shahid Kapoor, who somehow doesn't quite live up to Kangana's acting. While he's very good in his role as an army soldier, he seems to sleep walk his way through, maintain a suppressed personality and emotions. Even when he opens up a little, it's frustrating to watch as he takes his time. He shares some kissing moments with Kangana, which doesn't seem forced but definitely lacks the passion. One truly wishes that Bhardwaj had brought the brilliance in Shahid Kapoor the way he did in Haider.
Saif Ali Khan channels the suave Humphrey Bogart from Casablanca to the T. From the impeccable suits to the greased hairstyle, Khans does a great job. Even though he doesn't have as much screen space as the Kangana Ranaut and Shahid Kapoor, the impact of his role can be felt. His transformation, and realization, is convincing too, as he begins to see how his lover has fallen for someone else.
An interesting thing for me was how each character were not playing a Hindu- Miss Julia is a Christian, Rusi Billimoria is a Parsi, and Nawab Malik is a Muslim. Though the religion of these characters are not expressed explicitly, or discussed, it's an interesting take to bring three different religions together.
A huge highlight for me were the visuals. Each scene has been shot at a location (no sets are used) and the lush landscapes were beautiful to stare at. The trees, the waterfalls, the sand, everything was scrumptious. The camera angles that zoomed in and out of a location gave a brilliant sense of the location we are in. At times, I felt like there were shades of The English Patient and Life of Pi. The visuals are so brilliant that one tends to overlook some of the shoddy CGI in the climax.
The musical numbers were also infused in the narrative and didn't drag the movie. Technically, Rangoon is par excellence and it's a joy to see a movie like this come out from Bollywood. Movies like makes me wish the Pakistani film makers take a leaf out of their book and learn from them.
Rangoon clocked in at 2 hours 25 minutes which didn't feel too long (the movie is censored in Pakistan which may be a blessings as the full version is being seen as too long and heavy). However, the movie does require patience in the beginning, and trust me, when you do give it patience, the second half plays out extremely well.
So, is Rangoon worth watching? "Bloody hell" it is!
Genre: Period, Drama, War, Romance
Director: Vishal Bhardwaj
Cast: Kangana Ranaut, Shahid Kapoor, Saif Ali Khan
Synopsis:  Set against the backdrop of WW2 and India's independence from the British Raj, Rangoon follows the lives of three people whose lives are changed when Miss Julia falls in love with her army escort much to the chagrin of her lover.
Running time: 145 minutes
Seen at: Supercinema, Royal Palm, Lahore
Approval Ratings: 75% Rotten Tomatoes